Making a Presentation
MetaMoJi Note includes several useful functions to help you deliver an effective presentation.
Showing Page-Turners
Page-Turners are used to switch or jump to a page by tapping the left or right edge of the screen. This option is not available immediately after you install the app.
Please turn on

> [System Settings] > [Show Page-Turners].
Selecting the Page List or Jump List
You can change the page by tapping

or


on the Page List
or on the Jump List

.
* You can tap

on the Page List or
on the Jump List.
Using the View Mode
While editing a note, tap to switch to the View Mode.
Or select > to switch to the Laser Pointer Mode.
Close the navigation bar by tapping > .
Tapping > or > allows you to view your note in full-screen on your device.
Making a Presentation
Going to the Next or Previous Page
Swipe left or right or tap

or

.
When you tap the left or right edge of the screen, the Page-Turners Bar appears.
Zooming in on a Jump Destination
When you double-tap on a Jump destination, the screen is zoomed in.
Double-tapping on the screen again will resume the original screen view.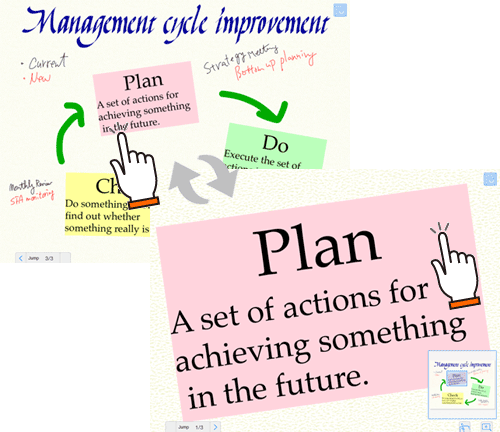 * You can confirm the area by holding down on the page.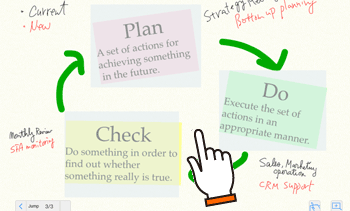 Emphsizing Your Points
The Laser Pointer Mode allows you to highlight a specific area on the current page. The path in which you draw will show using the selected colour and then disappear automatically after several seconds.