What is Shared Drive?
A Shared Drive allows you to share notes with multiple users via your MetaMoJi Cloud account. This is accessible from all supported devices that you are logged in to.
You can create shared drives and manage members of the drive, providing a separate area to store and organize team documents.

Please note: Sign up for our MetaMoJi Cloud service to use a shared drive. A paid version of either MetaMoJi Share or MetaMoJi Note is required to create a shared drive.
Shared Drive Screen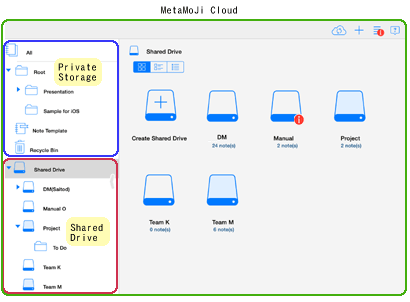 You are not allowed to save a note directly under the Shared Drive parent icon, you must first create a shared drive and then work within it. You can create folders under a shared drive and also within those folders to manage documents.

A Shared Drive that you created. You are the owner of this drive.

A Shared Drive you are a member of.

A Shared Drive you have been invited to but haven't joined yet.