Backup to your MetaMoJi Cloud
MetaMoJi Cloud is a storage service that allows you to backup your data. To use the cloud services, you have to register your MetaMoJi ID account.
A MetaMoJi ID is an account for using MetaMoJi's apps commonly. The registration is free. To register your account, your nickname, e-mail address, and password are required.
Advantages of Using MetaMoJi Cloud
Securing and Accessing Notes on Any Device
You can share your notes on different devices on which MetaMoJi Note is installed.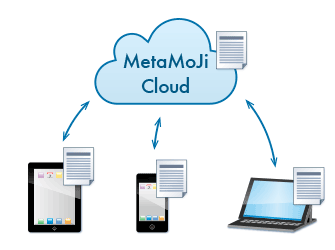 Synchronizing Automatically
Notes and items that you create can be downloaded and uploaded automatically.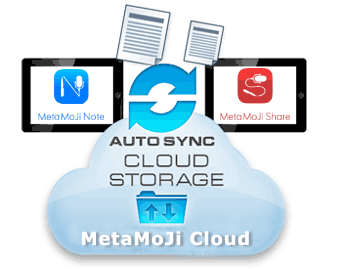 * You can tap

on the Note List screen to sync manually.
How to Register for MetaMoJi Cloud
Please tap

to register from the Note List screen.
How to Change MetaMoJi ID Info
You can change your account info from

> [MetaMoJi ID Registration Info] > [Change Registration Info] or [Change Password].