Deleting Objects
In the pen, eraser, or lasso mode, holding down on an object allows you to select the object.
Using the Lasso tool you can select one or more objects.
After selecting one or more objects a context menu appears. Select [Cut], [Remove] or [Delete] from the menu.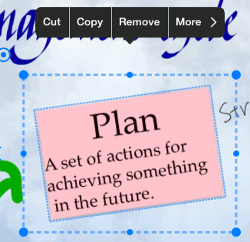 Erasing Drawing
You can remove drawn content using the eraser tool.
While editing a note, tap .
Tap again to show the Eraser Palette and select an eraser style.
Scrub a target area with the eraser.

Text Unit
On a Text Unit place your finger or pen at a position where you want to delete (it will delete backwards, i.e the character to the left of the cursor position) then tap the backspace key on the keyboard or mazec.
When you select a range of text

, you can remove the text by tapping [Cut] or [Remove] in the context menu.