Sharing Notes
MetaMoJi Note has a variety of sharing options that are accessed by tapping

.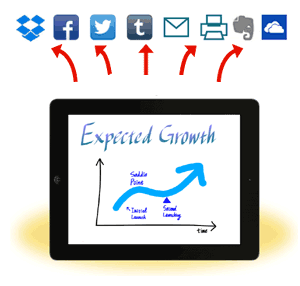 Sending an E-mail
You can send any note as a PDF or image file via e-mail.
* To allow your document to be viewed or edited you can also use the MetaMoJi Note format (.atdoc).
Using a Note in Other Applications
You can export a note to other apps such as Evernote, Dropbox, Box.com in your desired format.
Send to Dropbox
A MetaMoJi Note format file created from all pages is stored in Dropbox.
Send to Evernote
An image file from the currently displayed page is stored in Evernote.
Send to Application
You are asked to choose a file format (PDF, JPEG, or MetaMoJi Note) and one of available applications on your device.
* "Send to Dropbox/Evernote" will ask you to log in an account for Dropbox or Evernote. You can also set your account information in

> [System Settings] > [Account] > [Evernote Authentication]/[Dropbox Authentication].
Sharing a Note via SNS
You can post an image from a note to Twitter, Facebook or Tumblr.
* iOS6.0 or later is required to post a message to Facebook.
Previwing and

Printing

You can print a note.

A note can be previewed before printing or sending.

* The preview is created as a PDF file.

* You can specify the cover page, header, and footer in

> [Note Settings].
•If you have installed a PDF printer driver, you can export a note as a PDF file via the Charm bar.
•Printing is not currently available in the Android version. Exporting as a PDF file and print preview are under consideration for a future release.