Adding Notes To A Shared Drive
Both the drive owner and its participants can save notes into a Shared Drive.
Creating New Notes
Tap [Create Shared Drive].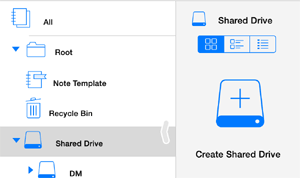 Adding Notes From Other Shared Drives or Local Folders
Tap [Edit] on the Note List screen.

Select and drag notes to a shared drive you want copy into. When the menu [Copy] appears, tap it.

*When you copy notes into another Shared Drive or a local folde the tag information will be deleted.
*The notes copied into a Shared Drive will be added to the MetaMoJi Cloud server at the next synchronization.
Adding Notes from Other Apps
When you read a note from another App such as email it is added into the root of the Local Cabinet. Please copy it into a Shared Drive using the process described in the section of this document titled "Adding Notes From Other Shared Drives or Local Folders".
Editing Notes – MetaMoJi Note
If other users edit or save the same note simultaneously the note will be replicated and saved as a new note. Only one person is allowed to edit the note simultaneously in the shared drive as a rule and conflicts must be resolved manually.
Deleting Notes
Tap [Edit] and then select the notes you want to delete.
Tap [Remove].
Changing A Notes'Title And Creating Tags
Changing Note Title
Hold down on the note you want to change the title of and tap [Title].
Modify the title and then tap [Done].
To access the Shared Drive again you will need to ask the owner to invite you to the drive again.
Creating Tags
You can add tags to notes in shared drives using the same process as those in the local cabinet. You are limited to 1,000 tags. Adding tags allows users to search and sort notes.