Zoom Box
When you do detailed or precise work, you can use the Zoom Box.
How to Use The Zoom Box
Please tap

at the bottom of screen. The zoom box appears.
The content inside

(the zoom frame) is shown in the zoom box. You can edit the content inside the zoom box.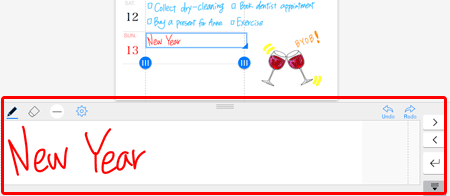 * You can drag

to move the position.
When you drag

to change the size, the magnification ratio of the zoom box is also changed.
* Dragging

up and down allows you to change the height of the zoom box.
* You can change the zoom box settings by tapping

.