Writing on a Share Note
If you are a presenter at a managed meeting or a participant at a free meeting, anything you write on the Share Note can be seen on the devices of other meeting participants.

Introduction - Who Can Join a Meeting?
When you need to write on a Share Note, please sign up to our free MetaMoJi Cloud service. If you have already signed up, please log in the service.

Joining a Meeting - Signing up to MetaMoJi Cloud
What You Can Do on The Editor Screen
On the editor screen, you can find the top bar menu as follows:

Using the menu, you can:
Add pages, photos, graphic items, and web pages
Emphasize a point (Laser Pointer)
Draw and write characters by hand
Erase your handwriting
Select and manipulate objects (the Lasso tool)
Insert text using the handwriting recognition "mazec", or the software keyboard
You can also write a comment in the Chat area on the Share Bar, or chat with other meeting members.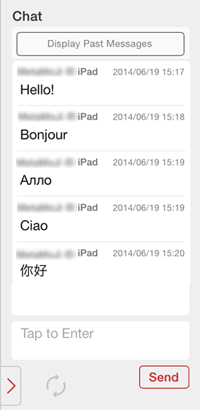 Share or Private Mode
When you write on a Share Note, you can choose the Share mode or Private mode.

Introduction - Screens - [Share/Private Mode] Button
You can reflect your personal memo written in the Private mode to the Share mode. The steps are as follows:
Write a personal memo in the Private mode.
Selecting the region of the memo, tap [Move to Share Layer] from the menu.
Your memo in the Private mode is shared among the participants.