Signing up to MetaMoJi Cloud
MetaMoJi Cloud is a free service that allows MetaMoJi Share users to backup their data.
Advantages of Using MetaMoJi Cloud
Securing and Accessing Notes on Any Device
You can share your notes on different devices on which MetaMoJi Share is installed.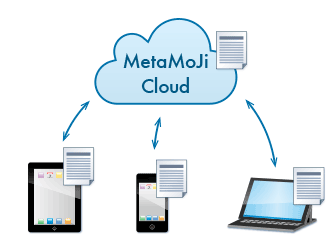 Synchronizing Automatically
Notes and items that you create can be downloaded and uploaded automatically.
You can also specify the time interval between automatic synchronizations to MetaMoJi cloud by tapping

> [System Settings]> [MetaMoJi Cloud].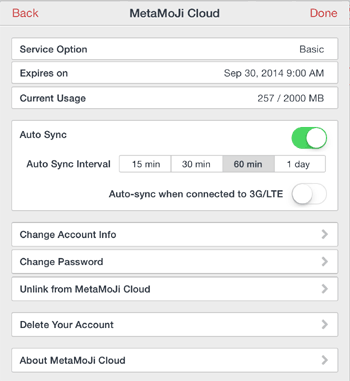 * You can tap

on the Note List screen to sync manually.
* Specifying the time interval of auto sync is available when you purchase MetaMoJi Paid Option from

> [Add-on Store](Now it is Free!).
How to Register for MetaMoJi Cloud
Signing up for the MetaMoJi Cloud service is FREE! Please tap

to register from the Note List screen.
* To learn more about the MetaMoJi Cloud click here