Taking/Leaving Chair
At a free meeting, all participants are allowed to write on the share note. It means that every participant has a chance to lead the meeting.
In a managed meeting, however, a Chair can control the meeting.
Taking Chair
To become a Chair, please tap [Share] on the top bar menu > [Take Chair].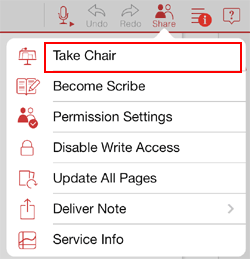 Leaving Chair
When you tap [Share] > [Leave Chair], there is no Chair and the meeting becomes a free meeting.