Setting a Nickname
When you run MetaMoJi Share for the first time, you are asked to set your nickname which is displayed during a meeting.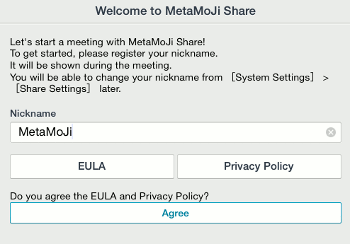 About Nickname
Your nickname is shown in the list of participants on the Share Bar. The Share Bar is located at the right-hand side of the screen when you open a Share Note to start the meeting.

Introduction - Screens - Share Bar
Changing Your Nickname Later
You can change your nickname from

> [System Settings] > [Share Settings].

Introduction - Screens - Share Settings