Use Case 2
Organizing a Group Meeting
When you distribute a Share Note to all participants, you can start a group meeting without paper. Participants can discuss while interactively updating the note or while writing meeting minutes in real time.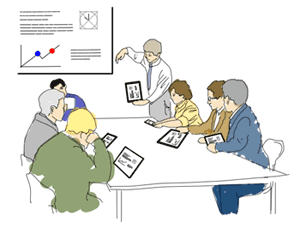 Joining a Meeting from Remote Locations
MetaMoJi Share can be used as a live interactive whiteboard for distributed group meetings across long distance. All members can see the same screen to facilitate the meeting.
Collaborative Editing
You can co-edit a document with your friends or colleagues overseas or across town. You can work together in real time. Also, each member can contribute to the document at a convenient time, according to the group policy.