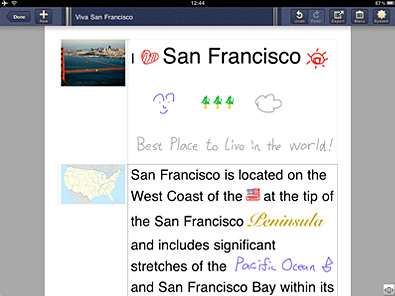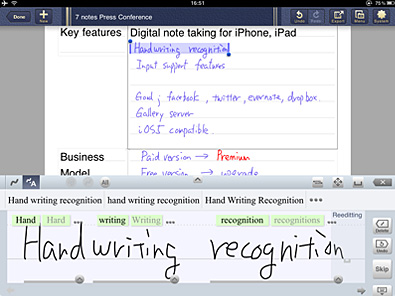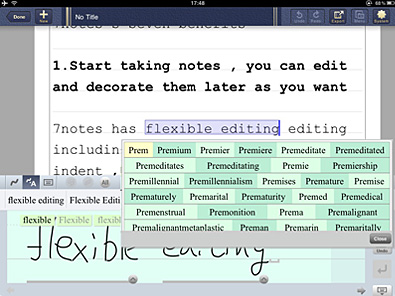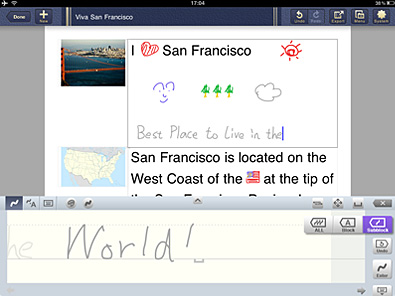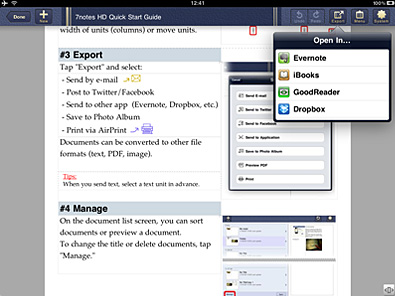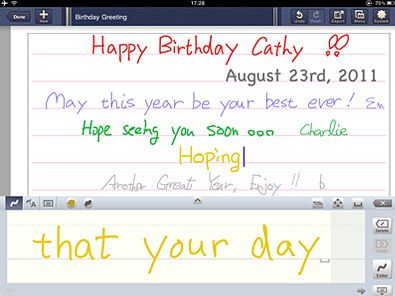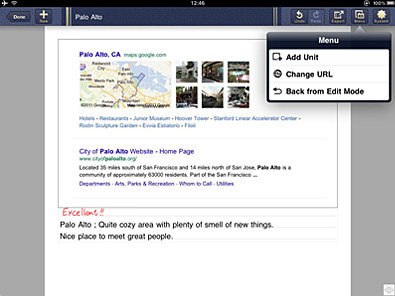 This is how you should take notes
But recognizing handwritten text isn't trivial, which is why a new app called 7notes focuses almost entirely on this problem ? and does the job really well.


| | |
| --- | --- |
| | 4. |
| 1. | 5. |
| 2. | 6. |
| 3. | 7. |
Press
Top
How It Works
Top
Features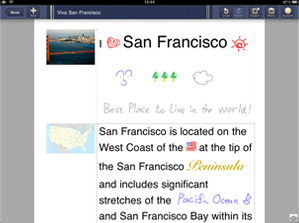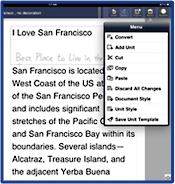 | | |
| --- | --- |
| 1. | Note take now and modify them later. |
7notes HD has flexible editing features including decoration, copy & paste, indent, auto word wrap, etc. Users can just start taking notes without carefully thinking about layout. Decoration features include font selection , weight of stroke , font size, line colors , bold , underline and delete line settings. 7notes HD can handle both handwriting and digital fonts in the same manner. Users can just start taking notes without careful thought of layout beforehand. You can edit the layout and decorate it as you wish later.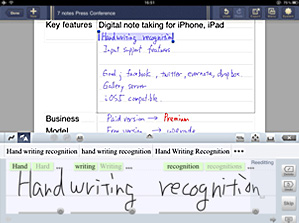 | | |
| --- | --- |
| 2. | Convert handwriting to digital text now or later. (Premium only) |
The 7notes HD Premium version converts your handwriting to digital fonts anytime. You can convert word by word or long handwritten sentences at once. There are lots of occasions when you are taking notes such as during a phone call, meeting with customers, commuting and so on and 7notes HD will be able to provide stress free notetaking. Also 7notes HD Premium makes it easy to post notes onto social media networks such as Twitter and Facebook.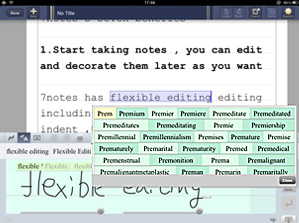 | | |
| --- | --- |
| 3. | Take notes fast - State-of-the-art predictive engine anticipate what you want to write. |
You don't have to write or type whole sentences. 7notes HD has a state-of-the-art predictive engine with natural language technology. An alternative display appears while handwriting or inputting through our predictive engine. Our predictive engine generates an alternative display to suggest the correct word and all you have to do is tap the desired word on the alternative display. If there is more than one alternative, you can extend it to see more alternatives.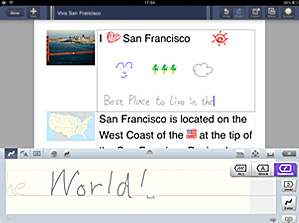 | | |
| --- | --- |
| 4. | Make writing fun - express your ideas and let your feeling shine through. |
You should have a lot of fun writing with 7notes HD. 7notes HD encourages you to express your feelings through handwriting and digital fonts. 7notes HD can easily import images and web pages to enrich your note. 7notes HD has strond local file management system with tags.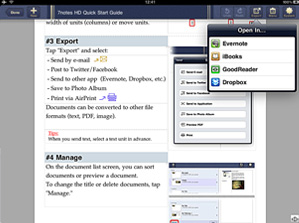 | | |
| --- | --- |
| 5. | Mix text and images freely and naturally. Post to Facebook, Twitter or store in Evernote, Dropbox. |
7notes HD has plenty of options to connect to other social and storage services. You can store your note to Evernote , Dropbox or post to Facebook, Twitter. 7notes HD can export and post mixtures of handwriting images and digital fonts separately to e-mail, Twitter , Facebook in a single operation without attachment or any outside application. 7notes HD can extract text messages for mail, Twitter and Facebook and keep it intact. Users can enjoy rich communication with text and handwriting conveniently.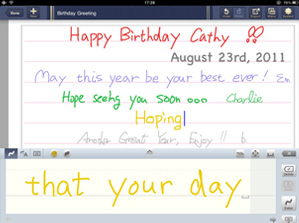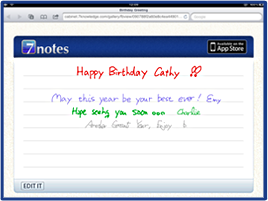 | | |
| --- | --- |
| 6. | "Social doodling" , Share your writing with your friends with "Edit It" server. |
7notes HD offers a social writing experience by providing "Edit it" server functions. Post notes to Facebook or Twitter in our 7document format. The viewer of the note can start reediting the note by simply pressing "Edit it" button. The "Edit it" server inherits the same privacy policy of the social network that you are posting to. Users can this feature within Facebook Groups to collaborate amongst friends or as a message board on Twitter.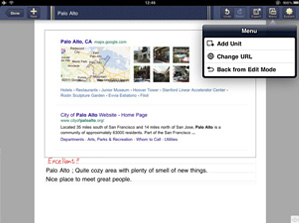 | | |
| --- | --- |
| 7. | Add note or comments on picture image & web page. |
7notes HD has unit variations such as "Text Unit", "Image Unit" and "Web Unit". Users can promptly develop a note from images or web pages. Wherever the location of the image or web page, users can add comments to their notes. Notes with embedded images and/or web pages can be published instantly via Twitter or Facebook to show friends or colleagues.
Top
User & Media Reviews
We just found an excellent note taking app for iPad that is all about handwriting recognition called 7Notes HD. This iPad app recognized both my cursive words and individual letters written with my finger (stylus pen recommended) on my iPad 2 tablet. This recently released iPad app from 7notes is a very sophisticated app that uses a powerful predictive engine to recognize all types of handwriting, even my chicken scratch.?(screenshots and video demo below break)?

I just got an ipad yesterday and I wanted to say that I love it. But sometimes I can't figure out how to do any of my work on the darn thing. There are lots of apps for games and things of that sort, but there aren't that many apps that deal with productivity. Until I found, 7notes HD that is.

Who uses the Notes app that comes native to the iPhone and iPad? I do. I keep shopping lists on it, jot down books I want to read later ? all sorts of randomness. Clearly I find it incredibly useful, yet it's bare bones as far as apps go.

A mail from a 7notes HD Premium user : "I have used many other competing products over the past 12 months including WritePad, Fast Finga, Noteshelf, Upad, Penultimate, Myscript Memo and Ghostwriter Notes. I can safely say that your product combines many of the best features of each of these products in an extremely user friendly interface. In my opinion this is clearly the best product on the market and the handwriting recognition quality is excellent." - 7Notes HD Premier customer
Top
About MetaMoJi
MetaMoJi provides applications on Smartphone and tablet devices by eliminating barriers between devices and users. MetaMoJi provides innovative applications with both of comfortable feeling by analog experience and conve- nience with digital technology. MetaMoJi contributes to the advancement of human beings by providing applications which enable users to collect knowledge, write documents, support organizing ideas and share them with others.
Please visit the corporate site for more information.
Top
© MetaMoJi Corporation, All rights reserved.