This is how you should take notes
Mixing your handwriting and digital texts is easier than ever with 7notes. Now you can take notes in business meetings faster and easier. The premium version has a converter that allows you to convert your writing into digital anytime you want.

| | |
| --- | --- |
| | 4. |
| 1. | 5. |
| 2. | 6. |
| 3. | 7. |
Press





Top
How It Works
Top
Features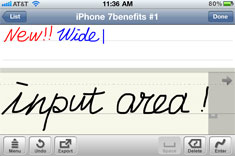 | | |
| --- | --- |
| 1. | Wider input area makes the tiny iPhone keyboard obsolete. |
You may have experienced mistakes using the iPhone's tiny software keyboard. 7notes brings a comfortable text input mode which should be much better than the iPhone's tiny software keyboard. The first is "Stroke" mode for handwriting text, the second mode is "Convert" which converts your handwriting to digital font. The third is an extended "software" keyboard with the in-house developed predictive engine.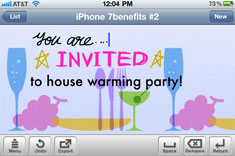 | | |
| --- | --- |
| 2. | Import pictures, notes and various seasonal templates to make your writing fun. |
You can write a handwritten memo on your pictures. 7notes can use your picture or images as the background. 7notes provides many original templates for seasonal greetings such as Halloween, Thanksgiving or Christmas.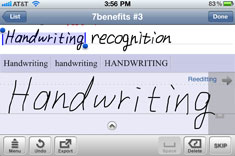 3.
Write, record your thoughts, and digitize them later.
(PremiumVersion only)
The 7notes Premium version converts your handwriting to digital fonts anytime. You can convert word by word or long handwritten sentences at once. There are lots of occasions when you are taking notes such as during a phone call, meeting with customers, commuting and so on and 7notes will be able to provide stress free notetaking. Also 7notes Premium makes it easy to post notes onto social media networks such as Twitter and Facebook.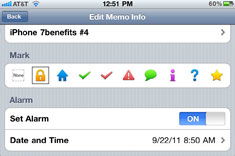 | | |
| --- | --- |
| 4. | Keep track of your important dates and set alarms for your messages. |
While writing a memo, you may want it to remind yourself later about it. For example, you write a small memo named "Pass the document to Charlie" and set the alarm for 9am tomorrow to send to your colleague. It works offline even when you cannot connect to your scheduler.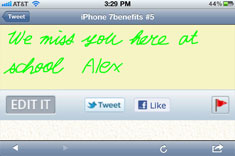 | | |
| --- | --- |
| 5. | Share your personal feelings without character limitations. |
7notes is designed to maximize the power of your messaging to social services beyond limitation of text and the number of characters as Twitter has a 140 character limit. 7notes offers a social writing experience by providing the "Edit it" server functions. Post notes to Facebook or Twitter in our 7document format. The viewer of the note can start reediting the note by simply pressing "Edit it" button. The "Edit it" server inherits the same privacy policy of the social network that you are posting to. Users can this feature within Facebook Groups to collaborate amongst friends or as a message board on Twitter.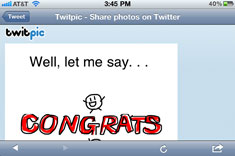 | | |
| --- | --- |
| 6. | Use handwriting to send social messages, quickly and naturally. |
You can use your handwriting to SMS messages and mails. 7notes has plenty of options to connect to other social and storage services. You can post your note to Facebook, Twitter or store to Evernote, Dropbox and other storage services. 7notes can export and post mixtures of handwriting images and digital fonts separately to e-mail, SMS messages, Twitter, Facebook in a single operation without attachment or any outside application. 7notes can extract text messages for mail, Twitter and Facebook and keep it intact. Users can enjoy rich communication with text and handwriting conveniently.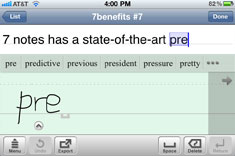 | | |
| --- | --- |
| 7. | State-of-the-art predictive engine makes it easy to write. |
You don't have to write or type whole sentences. 7notes has a state-of-the-art predictive engine with natural language technology. An alternative display appears while handwriting or inputting through our predictive engine. Our predictive engine generates an alternative display to suggest the correct word and all you have to do is tap the desired word on the alternative display. If there is more than one alternative, you can extend it to see more alternatives.
Top
User & Media Reviews
7notes is AWESOME!!! I had been testing all kind of note taking software for the past 3 months and thought I had seen everything. Apparently not. Everyone who takes notes knows that it's not just how to write things down on the scene but how to make it work afterwords, and 7notes made it happen. This is a revolutionary note taking app.

Using the handwriting to text conversion, I just write and the software pops up with predictive suggestions. My messy barely legible handwriting is elegantly converted to a standard Helvetica font.

The app allows you to post your note to Facebook, Twitter and store it on storage devices like Evernote, Dropbox and more. Really it is a great fun while creating notes with 7notes.

I love this app! Very easy to use!!!! You take your notes with you everywhere you go!!

There are several note taking apps out there, but 7notes is one of the better ones. It does a good job translating scribble.

The apps handwriting recognition feature is simply great; I bet you'll also like it after installing!
Top
About MetaMoJi
MetaMoJi provides applications on Smartphone and tablet devices by eliminating barriers between devices and users. MetaMoJi provides innovative applications with both of comfortable feeling by analog experience and conve- nience with digital technology. MetaMoJi contributes to the advancement of human beings by providing applications which enable users to collect knowledge, write documents, support organizing ideas and share them with others.
Please visit the corporate site for more information.
Top
© MetaMoJi Corporation, All rights reserved.