What is mazec?
mazec is a state-of-the-art handwriting recognition engine that allows you to convert your handwriting into text, instead of typing into your software keyboard.
Starting to Use mazec
Please tap

to open a Text Unit.
You can select the input mode by tapping

.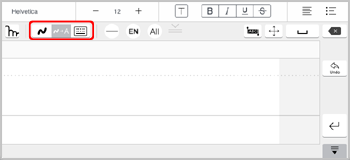 * When you are using an iPhone, hold down on

and slide your finger or stylus pen to choose an input mode.
Or tap

to change the input mode on the mazec screen.
Input Modes
Stroke mode
Handwritten letters are entered as they are. The letters can be converted into text later.
Convert mode
Handwritten letters are converted into text and entered.
Keyboard mode
Font letters are entered with a software keyboard.