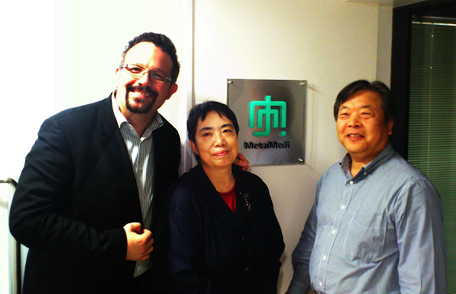 On Nov. 7th,
Phil Libin
, the CEO of
Evernote
stopped by our Tokyo office to discuss a unique collaboration with our team.
What came of it after discussing and brainstorming, we both felt that 7notes can provide a superior note taking experience, with its state-of-the-art handwriting recognition engine. The popular app can be used for both work and life, across a variety of settings where a keyboard based mobile computer doesn't fit, including; meetings, in the classroom, mobile workers, workers in the field, hospitals and so on.
With Evernote offering "Capture anything, Access anywhere, Find things fast" multi device platform and with 7notes' "this is how you should take notes" outstanding handwriting experience, this collaboration will increase Evernote users' benefits.
 "This collaboration is good for both parties" said Phil Libin, "7notes' ability to use a device naturally with Evernote's multi-platform note curating capability will make usability in the mobile phone and tablet environments enhanced."
This new relationship with Evernote that will provide an enhanced collaboration with the next major update of our popular 7notes handwriting app for iPhones and iPads in mid-November. With 7notes' Evernote enhancement add-on, users will be able to retrieve all notes in Evernote from 7notes and save 7notes documents into Evernote with its notebook and tag features in a smart manner.  Together, Evernote and 7knowledge will develop an enhanced experience for users worldwide.
 "The wants and needs of tablet users are the same as mobile users – they want work and live using their tablets, which often means creating and sharing a variety of content from photos to work documents," said Kaz Ukigawa, the CEO of 7knowledge.  "7notes is quickly becoming an iPad power app and with this new series of features, 7notes for iPad will make it easier for users to create and share content via unique handwriting app and Evernote connectivity."
 Please watch out for this new and exciting update of 7notes HD coming soon in mid-November.