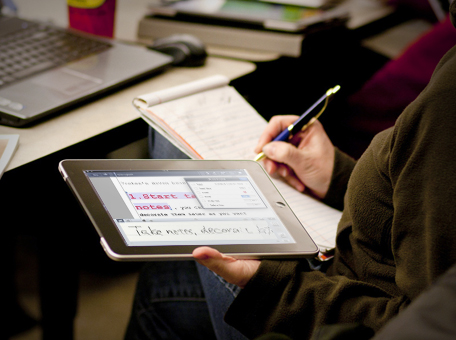 Here is an example of how 7notes can be used in the classroom.
Susan, an employee at a local tech company, is currently enrolled at City College in an extension class.  She had a problem and 7notes came to the rescue.
"My class, "Introduction to Internet Marketing" had a special review seminar. Unfortunately, I missed the session and was left without any materials from which to study from.  I was left with two options; I could either skim through my textbook or review my outdated notes. However, after explaining my dilemma to one of my classmates, she suggested that I install 7notes onto my iPad. At first, I wasn't sure what the point of using 7notes was compared to my old handwritten notes.
But I soon realized the big difference.
My classmates not only took handwritten notes, but digitally converted them using 7notes. Some of my classmates stored their 7notes documents into Evernote which allowed me easy access to notes, web resources and important comments.  After reading through the stored notes, I could easily understand the topics discussed at the review seminar. Thank you 7notes!"